PHP source code compiler
PHP source code encryption, obfuscation, and licensing solutions
Try it Now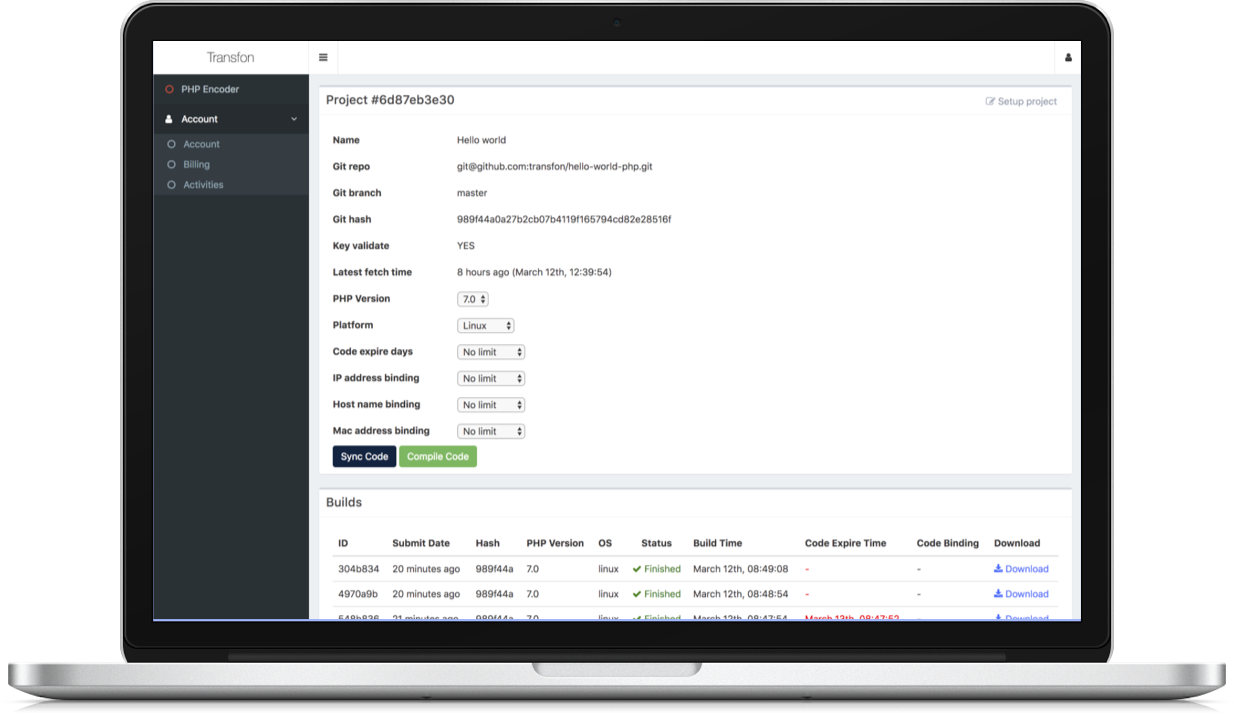 Transfon PHP source code encryption, code-protection and licensing solution is designed for WordPress, Magento, Laravel, and Drupal plugins or extension developers to protect source code and manage licenses. For Enterprise companies Improve the security of PHP application servers.
PHP source code protection solution

100% Safe and Uncrackable
Your PHP source code will be compiled into binary code and encrypted. Ideal for any commercial software using PHP language.

More than four layers of source code encryption and obfuscation
Safely deploy your source code anywhere. The source code deployed on your server cannot be viewed, modified, or edited.

No limitations
Sell or deploy your encrypted PHP software as many times as you like to an unlimited number of clients. Use your compiler without limits.

Multiple ways to control the licensing
License your PHP software by time-limit or server number. Only a server with your license can run your software.
Why choose Transfon Compiler?

PHP code encryption, protection, and licensing
Hide, encode, encrypt, or obfuscate the PHP source code and protect the PHP source code. The encrypted code can only run with the PHP code loader.

Enhanced security of the PHP application
Protect the business logic of your PHP application or the extensions of your open-source PHP projects. No PHP source code is exposed on the production server.

Improve the PHP performance
We validate the errors and optimize the bytecode of your PHP application, thus improving the performance of the codes.

Better manage the license
Issue licenses to clients by time-limit, machine-limit, or hostname-limit, and generate unique license file for your clients.
Frequently Asked Questions
Which PHP version and OS does the Transfon Compiler support?
PHP versions include PHP 5.4 (Linux only), PHP 5.5, PHP 5.6, PHP 7.0, PHP 7.1, PHP 7.2. Supported OS include Linux, MacOS, and Windows. The encrypted code and code loader can be deployed on Linux servers or Windows servers. The compiler can be executed on Linux server, which in most cases is your packing and deployment server.
What makes the Transfon Compile distinct from other PHP source code protection solutions?
Compared with ionCube, Zend Guard, and SourceGuardian, Transfon compiler not only protects your source code but can also improve the performance of your PHP application and correct the errors in your code base.
Do you offer a free trial? If so how does it work?
Yes. Once you have signed up to the trial plan, you will receive a 14-day time-limited version of the loader. You will be able to compile your PHP code and receive the encrypted code for testing purposes.
How does the compiler work?
The compiler transforms the PHP source code into a binary code which can only be executed with the code loader. During the code transformation, the binary code will bind with the information of the target application server. You will be able to control the software license of your PHP application as well as any plugins installed on the machines of your clients.
Is there a limit on the number of machines the encrypted code can run on?
No. There is no limitation on the number of your clients.
Who is the PHP encoder designed for?
Transfon Compiler is designed for PHP developers, software development agencies as well as for PHP freelancers who are developing PHP applications and licensing the code to their clients. It helps to protect Intellectual Property and to manage the license. It is designed for PHP Wordpress, Magento, Laravel, Drupal plugins or extension developers to protect their source code and manage their license.