Buyer's Guide of IAB TCF 2.0 CMP for Publishers and Ad Network
Consent Management Platform
also known as CMP is one of the most important and mission-critical tech for all the publishers. It not only keep your site compliant with GDPR but also impacts the advertising revenue. There are several factors to choose a good CMP for your website.
Google's GDPR law enforcement means it is the time for all the publishers and advertising network to install a CMP compliant with IAB TCF 2.0 for your Google Ad Manager, Google Adsense, Prebid and all the other major advertising tech vendors. Otherwise, the advertising revenue stream will be paused and reduced.
How to choose a CMP for your websites or your advertising network?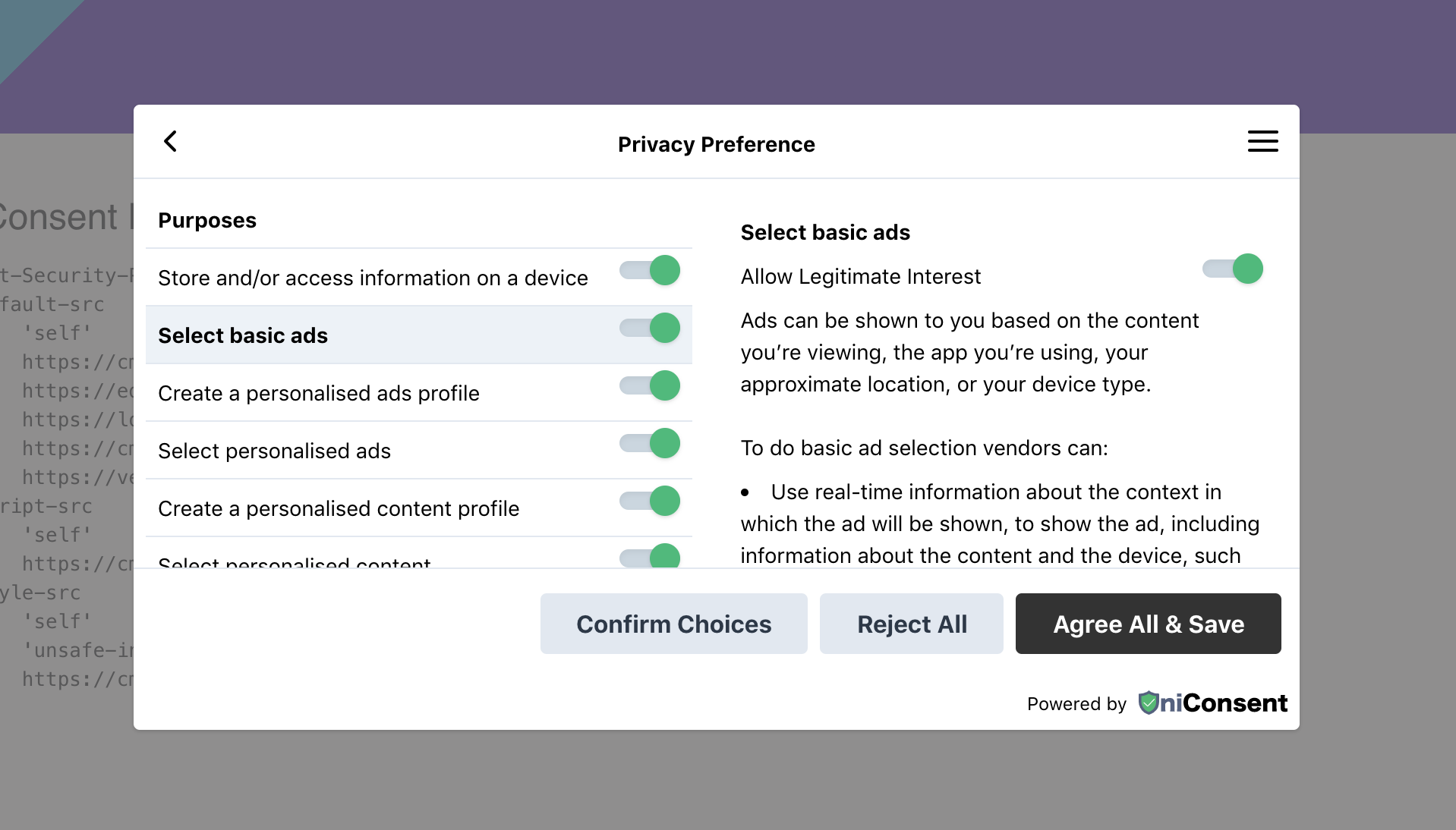 Buyer's Guide of IAB TCF 2.0 CMP for Publishers and Ad Network
The CMP should be certified by IAB EU
Only the IAB CMP which are certified by IAB EU can send consent signals to Google Ad Manager, Google Adsense and all the other major advertising tech vendors.
UniConsent CMP is one of the first batches of IAB EU certified CMP for IAB TCF 1.0, IAB TCF 2.0 and the first CMP support IAB TCF 2.0 signals since 2019.
The CMP should be lightweight and fast loading
Because all the advertising stack relies on the CMP tags and CMP signals. The CMP tag should be fast loading, reliable and as small as possible. Otherwise, your advertising revenue may drop because the CMP tag is failed loading or slow loading.
Compare with the other CMP you can find on the market, the tag size of UniConsent CMP is only 30% of the other CMPs.
Compare with the other CMP which responses very slow, UniConsent CMP is interactive and fast response. You can feel fast or slow when using different CMPs.
We have seen lots of publishers lost revenue because of the slow loading CMPs. You will see substantially revenue growth by switching to UniConsent CMP.
Some large publishers reported: "We have noticed our revenue increased substantially right after we implemented UniConsent v2".
Technical Support is essential
Instead of only providing a CMP tag like the other CMPs. UniConsent CMP provides technical support for the integration. Our team also reviews your ad stack to make sure the CMP is integrated correctly with your Google Ad Manager, Google Adsense, Prebid setup.
We can see lots of publishers don't have the correct setup of CMP which caused the revenue loss. UniConsent provides Email and Live chat support when you have issues and questions.
Get started and switch to UniConsent CMP
You can get started by clicking the Sign Up button below or contact us with Email: [email protected]